Tomato sauce was, bizarrely, something I didn't really ever make from fresh tomatoes.
I know this makes ZERO sense, although if you are canning homegrown tomatoes you are probably not really in the reader demographic of this blog, so I shall continue.
I think it is one of those things that is a hangover from food in childhood; my mother was the QUEEN of a tinned tomato-based supper*, so I kind of thought that is just what you did. (*chicken thighs, red peppers, garlic, a slosh of wine and a load of pasta. I would love to make it myself, but i just know it will never ever taste that good). I mean, I remember her skepticism when you could buy tinned tomatoes that were CHOPPED and how long it took her to get on board with the notion, so cooking fresh tomatoes just didn't really happen. They were for salads and sandwiches and slicing on top of cheese on toast.
But then, a few years ago, I realised that a pack of supermarket cherry tomatoes could be elevated to something really rather tasty after a spell in the oven, and so this easy tomato sauce was born. I know we are supposed to live on turnips all the winter long, but it even works with the slightly tasteless imported ones in Winter.
It works with pasta and is excellent on a pizza base, and I hope you enjoy it as much as I do.
And if anyone is making a dinner involving chicken and tinned tomatoes, I'll be round for 6. I'm well trained in the washing up x
~
This is a Little Pink Kitchen recipe, so you will need to heat the oven to one hundred and eighty degrees, shockingly.
This is a tomato sauce recipe, so you will need to halve some cherry tomatoes, shockingly.
I keep mistyping cherry as cheery and I am here for this chat.
A cheery little tomato, here to brighten up our dinner.
How marvellous.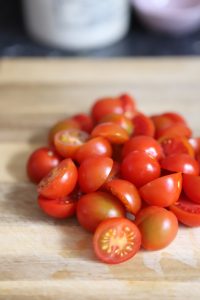 Anyway, chuck the tomatoes, cheery or otherwise, into a baking tin.
And sprinkle on some salt…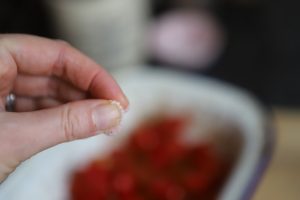 And some balsamic vinegar.
I really feel the urge to retake these pictures because my current bottle of balsamic is way posher than this, and I want you all to be quietly praising my condiment choices.
But here I am, once again living in the real world. Sometimes we have the really fancy stuff, sometimes we don't.
And that is fine.
The sauce will still taste good.
Crush some garlic into the pan…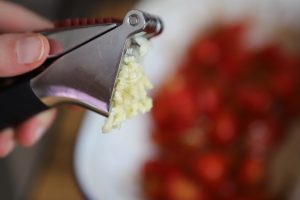 And distribute some butter over the top.
I nearly used that good old recipe instruction to 'dot' the butter over the top, but I am clearly some kind of savage who doesn't dot.
In fact I didn't even chop, I just sort of crumbled.
Still tasted delicious.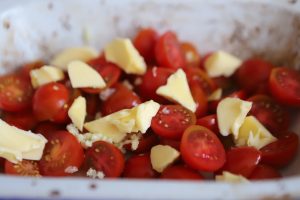 Bake for 15 minutes…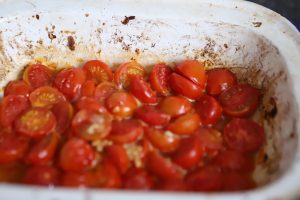 Then either mash with a fork for a chunky sauce or blend if you prefer some kind of smooth criminal set up.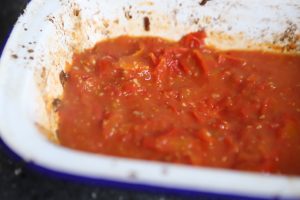 Then, for the love of christ, would you just buck it on your fecking dinner like a normal person instead of doing what I clearly did and fill yourself full of notions and put it in a presentation jar like some kind of gobshite.
Still it looks pretty, and tastes even better.
I do hope you enjoy.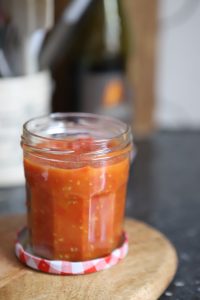 Print
Easy tomato sauce
330g

cherry tomatoes
Big pinch salt

1 teaspoon

balsamic vinegar

20g

butter

2

cloves garlic
Instructions
Heat oven to 180 degrees.
Halve cherry tomatoes and place on baking tray.
Sprinkle tomatoes with salt and balsamic.
Dot the butter over the top of the tomatoes.
Crush or finely grate the garlic and add to the tomatoes.
Mix well.
Bake for 15-20 minutes, until tomatoes are starting to char a little around the edges.
When cooked, mash with a fork or blend for a super smooth sauce.
Perfect stirred into cooked pasta or as a pizza topping.