I feel like a bit of a sham of a food writer, with this one, I'm not going to lie.
You see, I lived in that there China, a long, long time ago, when I was eighteen years old. I taught English as a foreign language (I mean that sentence alone shows you it was a long, long time ago, because I believe I would now be teaching English as a second language. Or something.)
Anyway, live in China I did and yes, I absolutely discovered the joyous comfort of a massive bowl of noodles and started a lifelong love affair with the soup dumpling, but, in truth, I didn't really take the food that seriously at all, which feels like the opposite of pretty much every single recipe on the internet. I was supposed to be tasting it all in a way that I could be writing about now, twenty years later; all I ATE THIS PORK BUN IN THE PLAYGROUND OF NANJING NUMBER 1 MIDDLE SCHOOL AND I HAVE BEEN TRYING TO PERFECT IT EVER SINCE.
Except I didn't.I was eighteen years old for goodness' sake. I had beer to drink and dodgy Chinese nightclubs to dance in and waiters to shag.
But, three times a day, I ate. I was on a teacher's assistant salary, so it was fairly basic (apart from when I managed to persuade some businessmen to let me teach them and they supplemented my salary AND brought me out for high end lunches. Win-win. Anyway, I digress.) I ate three times a days.
Bowls of noodles, baskets of wobbling dumplings, a metal lunchbox full of whatever wares the pick and mix trolley across the road from the school had. These things that an eighteen old from Ballymena had never tried before. These things that surprised and delighted my young taste buds. These things that might not have created the romance of the traditional food writer, but that did leave an impression on those taste buds for life.
And now, twenty years later, I stand in a little pink kitchen trying to turn a packet of dumplings from the freezer of the Asia supermarket into a delicious lunch. This salad does just that, and maybe even brings a few very fond memories to the surface.
Enjoy x
~
Grab some garlic and crush it. Or grate it. Or finely chop it.
But I'm a big fan of a garlic crusher so I crush mine.
Put the garlic in a bowl with some sugar.
Turns out it doesn't matter if you aren't catering quite so much these days and your sugar is slightly fossilised.
You are so very welcome for this intensive food research I have carried out for you.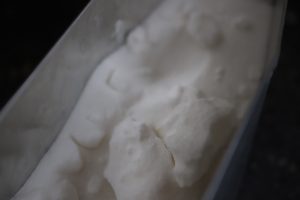 Add the soy.
Obviously the soy is from the mass catering days also.
I promise it tastes the same if it comes from a teeny tiny bottle from the corner shop.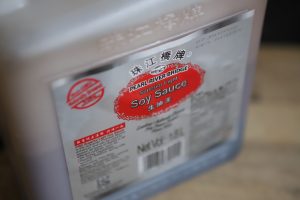 Add a neutral vinegar.
I live in an area of the world that grows millions of apples every year and am slightly ashamed that my vinegar this time round isn't one of the incredible ones we make locally.
But sure, isn't it grand just to be doing your best to get some dinner on the table?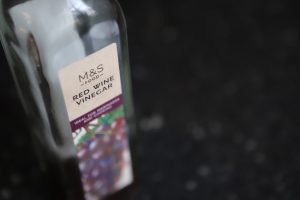 Add some crispy chilli oil.
Talking of local stuff, we have some incredible producers of a variation on this called rayu, but this brand is the OG.
This one time, in China, I got a train through the Sichuan region and they walked up and down the corridor of the dining car with an actual bucket of the stuff.
Get some in there.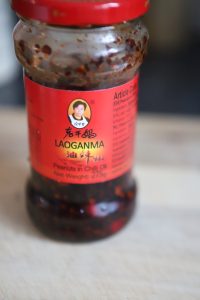 Add some sesame oil…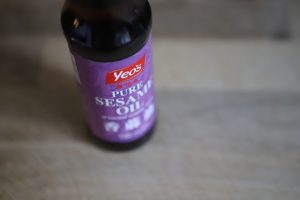 …and mix well.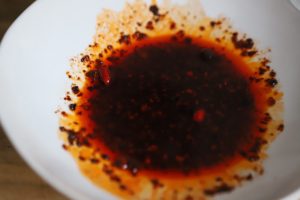 The next, admittedly quite shocking, ingredient in this cucumber salad is indeed an actual cucumber.
Cut it into quarters lengthways.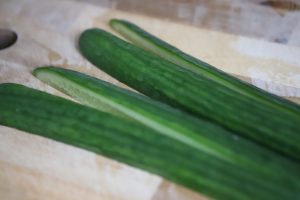 Then using the side of your knife, give the cucumber a bit of a bash.
You will feel ridiculous, but it helps the lovely dressing seep in.
And next time you see 'smacked cucumber salad' on a menu, smile at the fact that there is some poor bugger in the kitchen quite literally smacking a cucumber on your behalf.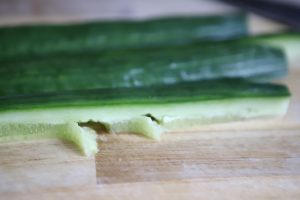 Cut the cucumber into smaller chunks…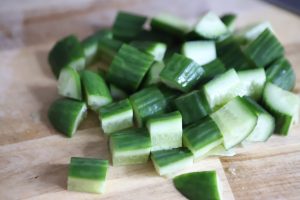 And add to the dressing, mixing well.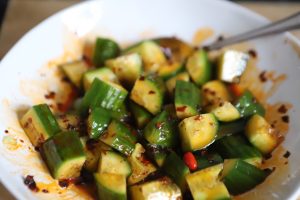 Serve, and enjoy.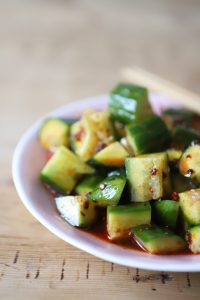 Print
Spicy cucumber salad
1

cucumber

2 tablespoons

neutral vinegar (cider or wine vinegar is good)

2 teaspoons

crispy chilli oil

2 teaspoons

sugar

2 teaspoons

sesame oil

2

cloves garlic

1 teaspoon

soy sauce
Instructions
Mix together the sugar, chilli oil, sesame oil, vinegar and soy in a bowl.
Peel and crush or finely grate the garlic and add to the bowl.
Mix all ingredients together well.Cut the cucumber into quarters lengthways.
Using a rolling pin or heavy saucepan, smack the cucumber to break it up slightly.
Cut the cucumber into chunks.
Add the cucumber to the bowl and mix well.
Serve.