This one is inspired by nothing except the desire to make a tasty dinner that is easy. If I was aiming to romanticise a trip to India with paneer in a tandoor oven, I would mention that shashlik does seem to be shorthand for a kebab with peppers and onions, but I'm not even sure how factually correct that is, so I won't bother.
Instead I'll tell you about that time I just wanted dinner to be ready. Something delicious to go in the oven and serve up family style. I made a little video about it in covid times, which is still on my facebook page, but lots of people claim that it has served this very purpose in their house. No notions, borrowing ideas from other food cultures, a tasty dinner.
Job done.
~
Preheat the oven to 180°, for this is a Little Pink Kitchen recipe and I am unsure of any other oven temperature actually exists.
Chop the paneer into cubes…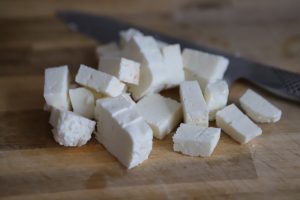 And half the onion into generous slices.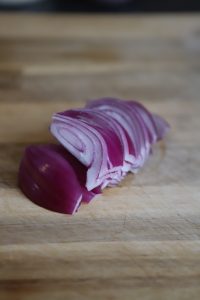 Do the same with half of the pepper as well.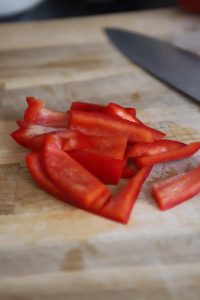 Buck all these things into a baking dish or tray and add some tomato puree, mango chutney and curry powder…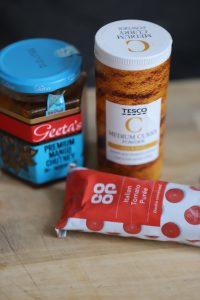 As well as some oil and salt.
Bake the lot for 20-25 minutes until nice and brown. If you want to share the recipe with your online friends, it would potentially be an idea to actually take a picture of this juncture.
Sorry about that. Scroll down until you see the end dish and you'll see what 'nice and brown' means to me.
Now, chop the remaining red onion into small dice…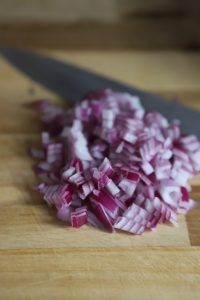 And do the same with the other half of the pepper.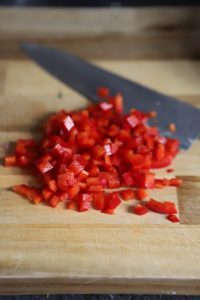 Chop a mango or red apple into cubes too. Mango is all nice and exotic and has notions of authenticity and all, but apples are awfully cheap and we grow a lot of them in this wee country, so whatever works for you.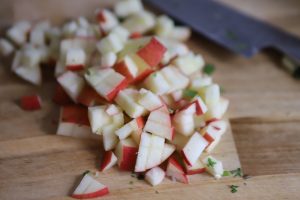 Slice round the seeds of the cucumber and cut these pieces into small cubes.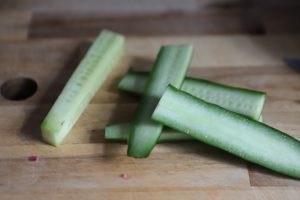 Finely chop the coriander. If coriander tastes like soap to you, just don't use it (and I am sorry for your troubles. Coriander is delicious.)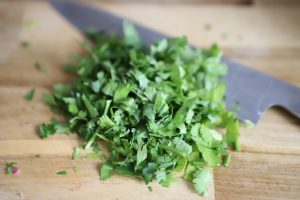 Put all these teeny tiny cubes into a bowl…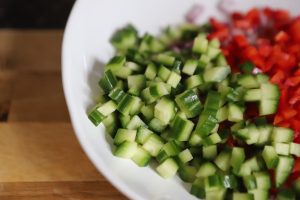 And sprinkle over some salt and nigella seeds (also known as onion seeds).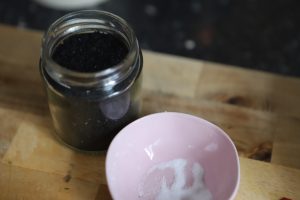 Squeeze over the lime juice and mix well.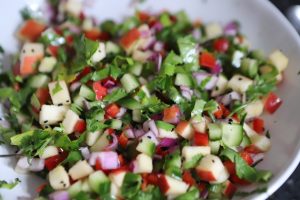 Then serve it up with wraps and yoghurt and let everybody get stuck in and sort themselves out. Sure haven't you enough to be getting on with?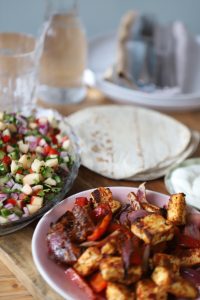 Print
Sticky mango paneer
225g

block paneer

1

red onion

1

red pepper

1/2

cucumber

1

apple or

half a

mango
Handful of coriander
Teaspoon of nigella seeds

1 tablespoon

mango chutney

1 tablespoon

tomato puree

1 tablespoon

medium curry powder

1

lime

2 tablespoons

cooking oil (I use light olive oil)
Salt
Natural yoghurt & wraps to serve
Instructions
Preheat the oven to 180°.
Chop the paneer into cubes.
Chop half the onion and half the pepper into thick slices.
Add the paneer, pepper & onion to a baking tray with the tomato puree, mango chutney and curry powder.
Add the oil and salt and mix well.
Bake for 20-25 minutes until golden brown.
Finely chop the remaining red onion and pepper into dice, along with the apple or mango.
Deseed the cucumber and chop into fine dice and add to a bowl with the pepper, onion and fruit.
Chop the coriander and add to the bowl with a pinch of salt and the nigella seeds.
Squeeze over the lime juice and mix well.
Serve the salad and paneer with wraps and yoghurt.